Obstacle Courses
for Rent
Inflatable obstacle courses offer greater interaction and can be a great opportunity for children to race each other and compete through the course.
Professional delivery to
apple valley, CA
and surrounding areas. Please submit a quote or contact us to be sure we service your area.
Obstacle courses are a thrilling and fun-filled adventure for kids and adults alike. They have various challenging obstacles that test the participants' strength, balance, agility, and endurance. The entire course is inflated using air, making it bouncy and safe for the players to jump, climb, and slide without fear of injury.
The obstacles vary in shape, size, and difficulty level, adding to the excitement and challenge. Some of the obstacles may include bounce tunnels, wall climbs, slides, pillars, and hurdles. Participants must navigate through these obstacles in the fastest possible time, trying to beat their own personal best or compete against others.
Inflatable obstacle courses are commonly used for outdoor events, such as school fairs, carnivals, and birthday parties. They provide a safe, active, and enjoyable way for people to test their physical abilities and have fun with friends and family. Whether you're a kid or an adult, an inflatable obstacle course is sure to provide an exciting adventure that will leave you with long lasting memories.
Get your Bounce House, Obstical Course and Water Slide Rentals today! Apple Valley, Victorville, Adelanto, Oak Hills, Phelan, hesperia, Helendale, Oro Grande, Lucern Valley, Barstow! Servicing the High Desert!!!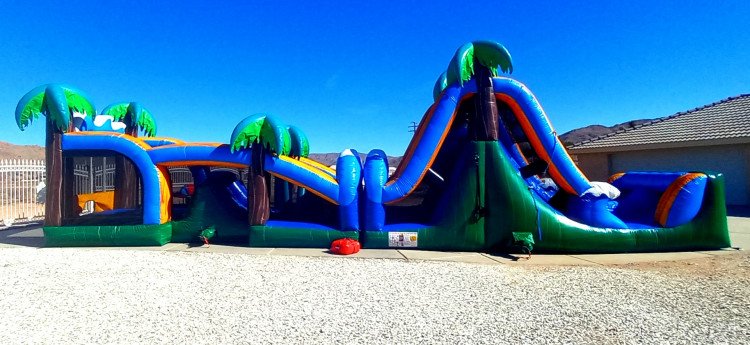 TROPICAL RUSH OBSTICALE COURES
from $380.00